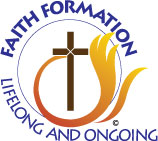 We grow in our Faith throughout our lives and our Faith Formation program offers opportunities for all ages. Immaculate Conception's Faith Formation program is designed to guide youth, from kindergarten to high school, to understanding, reflection, discussion, and growth in their faith. Youth and their families gain knowledge of Jesus Christ and the Catholic Church, as well as receive preparation as candidates for the Sacraments of Reconciliation, Eucharist, and Confirmation.
RCIA – For anyone interested in learning more about your Catholic faith or becoming Catholic. If interested, please call Ann Derr at 315-683-9415 or Barb McKenney at 315-682-5818, for details. Classes starting soon. See the Calendar for details.
Are you interested in helping our children to grow in their faith? We could use you! If you would like to participate in this ministry please call the Parish Office at (315) 677-3061. A VIRTUS Certification is required to teach or volunteer with the children, but we can direct you in obtaining this certification.